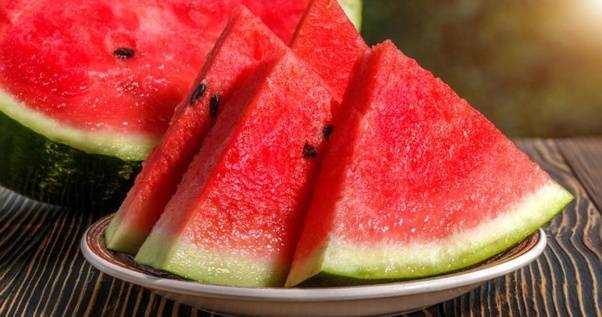 Summer has arrived and it is time to make some changes in your diet. The scorching heat can make you dehydrated.  To stay hydrated all day, consuming fruits and fruit juices is important along with drinking enough water. Summers can also cause some negative effects on your body, it can make it hard to absorb the nutrients, and consumption of fruits can reverse those negative effects.  
So, here is the list of fruits that will keep you healthy and hydrated in summer.  
Watermelon  
Watermelons are known to cool the body in the summer season, and also help to fight dehydration. 92% of watermelon is water, so these are extremely hydrating. And along with this, the fruit is known for its refreshing taste and it does not cause hunger soon after consumption.   
Strawberries 
Consuming just a palm full of strawberries can keep you hydrated. Strawberries are rich in fiber, vitamin C, manganese, folate, and potassium. These are the powerhouse of antioxidants that are good for eye health, skin, and some physical problems.  
Oranges 
Oranges are high in water content. This fruit contains around 87% of water. And this citrus fruit can give a healthy glow to your skin and help you recover enough energy after a workout. Oranges help to fight many health problems including heart problems, cholesterol levels, and cancer. 
Mango 
Mango is known as the king of fruits, and that is for a reason. No doubt we all just love mango and wait for summers just to eat fresh mangos. Mangos are rich in vitamin A, C, D, iron, potassium, and calcium, and plenty of fibres and this fruit also helps in boosting immunity.  
Grapes 
Grapes are high in antioxidants and potassium. It keeps your heart healthy and is also good for brain health. Grapes increase nitric oxide levels in the blood and prevents blood clot, and are also known to cure constipation because of the laxative properties.  
First published on: 09 Mar 2021, 20:12 IST