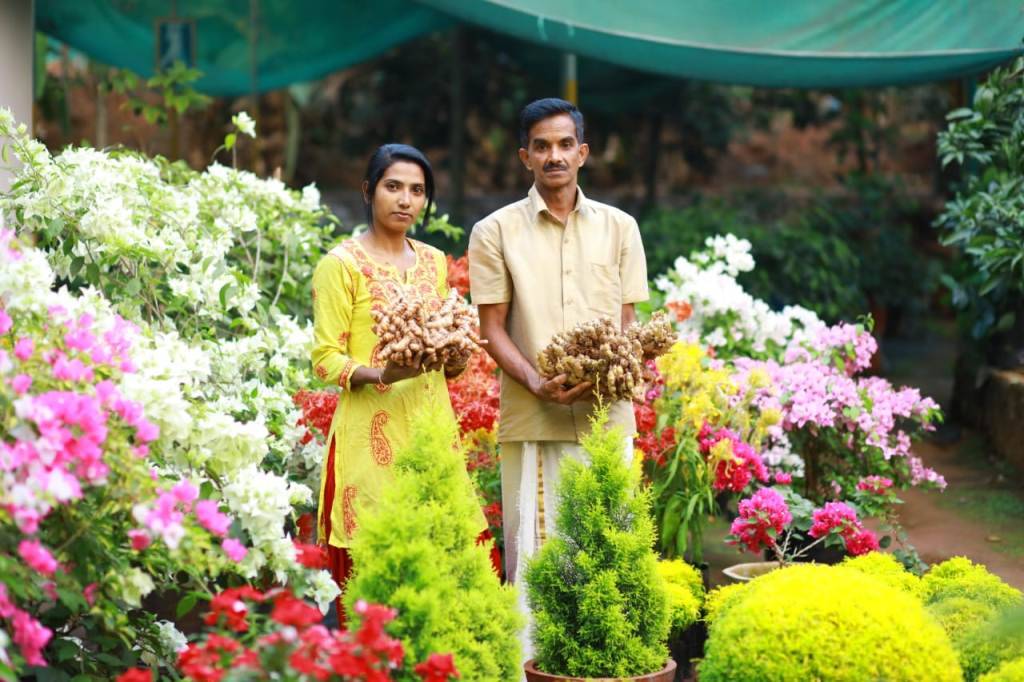 "Success isn't just about what you accomplish in your life; it is about what you inspire others to do". Jojo and Bindu hailing from Kozhikode is a good example of the above quote. 
Jojo Jacob, aged 50 years is a resident of the Changaroth Panchayat, which covers the north-east hilly tracts of the Kozhikode District in Kerala. His parents migrated long ago from the southern parts of Kerala to the Malabar region in the hope of better living conditions. He is a school dropout and was working very hard in the fields along with his parents to meet both ends of life. In 1998, he happened to attend a training programme on nursery techniques of horticultural plants at ICAR-Krishi Vigyan Kendra under ICAR- Indian Institute of Spices Research, Kozhikode, Kerala which was the turning point in his life. The training motivated him to start a plant nursery at his farm.  The nursery initially started with a few plants in 36 cents of own land around his house soon became a roaring success with the involvement of Ms.Bindu whom he married in 2003. Jojo - Bindu couple worked over 16-18 hours a day which made their nursery into fame even in far away places of Kozhikode.  
The focal point of the nursery is much prized bush pepper plants. Probably their nursery must be the largest bush pepper nursery in the world selling over 18,000 plants annually. Incidentally one such bush pepper plant was taken from their nursery for a national seminar in agriculture at New Delhi in 2019 and the seminar was inaugurated by the honourable prime minister of India by unveiling this bush pepper plant. Bush pepper plants are produced in a special way with utmost care for a better success in rooting of cuttings. The lateral branches of the identified high yielding pepper varieties are collected during early morning or late evening of the day to avoid wilting of cuttings.
First the cuttings are planted in a rooting medium with sand only and once the cuttings are rooted after about 50 to 60 days, these are transplanted to bigger sized polybags containing potting mixture prepared with soil, sand and FYM in 2:1:1 ratio. As the plants grow over the years, depending upon the size of the plants, the plants are transplanted into pots of different sizes and finally to bigger sized concrete or plastic tubs. Such plants of over 12 or 15 year of age will give about 4.5 to 5 kg of green pepper per plant per year. Another innovation by them is to support the plants with metal rings in different heights so as to display the plant with berries in a more attractive manner. Such plants will also have better growth.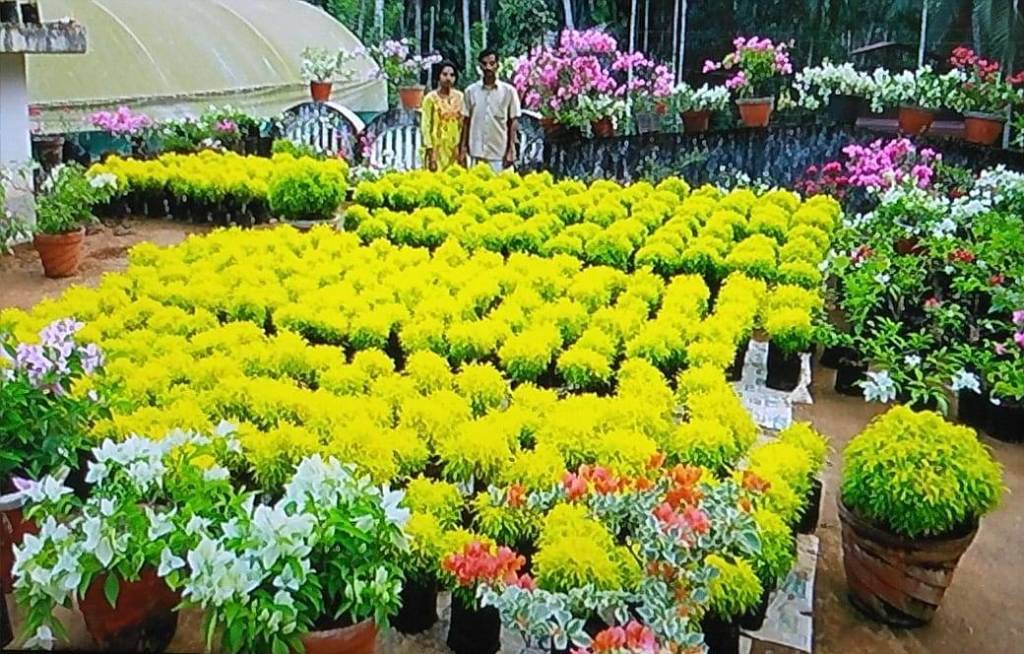 Diversity of plants 
The nursery of Jojo and Bindu also has unique and diverse collection of plants. In addition to bush pepper, they produce and sell planting materials of plantation crops and spices, native and exotic fruit plants, ornamental plants etc. They have bush pepper plants from six months of age to 15 years. Other collections include bougainvillea (35 types, grafted plants with multiple coloured flowers in a single plant), fruit plants like mango (All season,  Alphonso, Mallika, Kotturkonam etc.), sapota (Thailand type), jack (Vietnam Super Early, Chembaruthi varikka, seedless, small seeded etc.), Rambutan (N-18), mangosteen, longan, abiu, Thailand chamba, guava (Allahabad Safeda, Kilo pera), miracle fruit, milk fruit,  coconut seedlings (WCT, COD), arecanut seedlings (Mohitnagar, South Kanara local, Sagar etc.), Malabar tamarind, ginger (IISR Varada), turmeric (IISR Pragati), nutmeg grafts (elite line), ornamental plants (5 types) etc.
All these plants are produced or collected from reliable sources only so that quality is never compromised at their nursery. Enthused by the success of their nursery venture, they later diversified their activities into ornamental fisheries, vermiculture, apiculture, grow bag ginger and turmeric cultivation etc.
With the joining of Bindu in the family, their nursery business flourished. Initially she was a housewife, but with post graduate qualification, later joined as a teacher in a nearby school. She mainly works after school hours. Both work in tandem mostly single-handedly without outsourcing anyone for various nursery and farm operations including coconut palm climbing for harvesting. Numerous farmers/ students visit their farm every day from different places and both teaches them different techniques of farming with lot of enthusiasm.  To promote farming in a greater perspective, Bindu started a YouTube channel during the year 2019 named as "Techflora" with over 90,000 subscribers. Regular videos on farming for the benefit of farmers as well as young entrepreneurs are uploaded in the channel. She also conducts hands on training to school and college students in both on and off campus modes.  She is a much sought after student counsellor with inspiring, motivational and entrepreneurship development classes as well. 
Jojo and Bindu, a role model for entrepreneurs 
Jojo was an unemployed youth, without sufficient earnings to support his family before attending training at KVK. The training and the constant support and guidance from KVK have changed his life style. Presently the duo is confident and highly successful in their array of enterprises in agriculture. The total annual income from a mere 36 cents of land from all their activities is nearly Rs. 25 lakhs. Presently the family owns a jeep, car and two- wheeler for farm activities apart from a decent house which all were earned from farm income only. Both are ready to invest a part of their surplus money to take up any new ventures in agriculture.  Their success stimulated other farmers to rise from the slumber, realizing the untapped potential in their fields through better utilization of resources for a better livelihood.  Jojo has won several panchayat and district level awards for his achievements. He was selected for the "Young Farmer" award of Kerala Government in 2006 and "Innovative Farmer" award of Indian Agricultural Research Institute, New Delhi in 2007 which were nominated by KVK, Calicut. Diversified activities of  Bindu - Jojo couple and their success is the result of hard work, dedication and social commitment and now they are a role model for fellow farmers to emulate.  
Name and address of farmers:       
Jojo Jacob and Bindu Joseph 
Randuplackal House 
 Avadukka Post, Peruvannamuzhi,  Kozhikode– 673 528, Kerala. 
(Phone No.: 9446668879/9446865899) 
Authors
Dr.P.S.Manoj and Dr.P.Rathakrishnan 
ICAR-Krishi Vigyan Kendra, ICAR – Indian Institute of Spices Research,  
Peruvannamuzhi Post, Kozhikode – 673 528, Kerala.