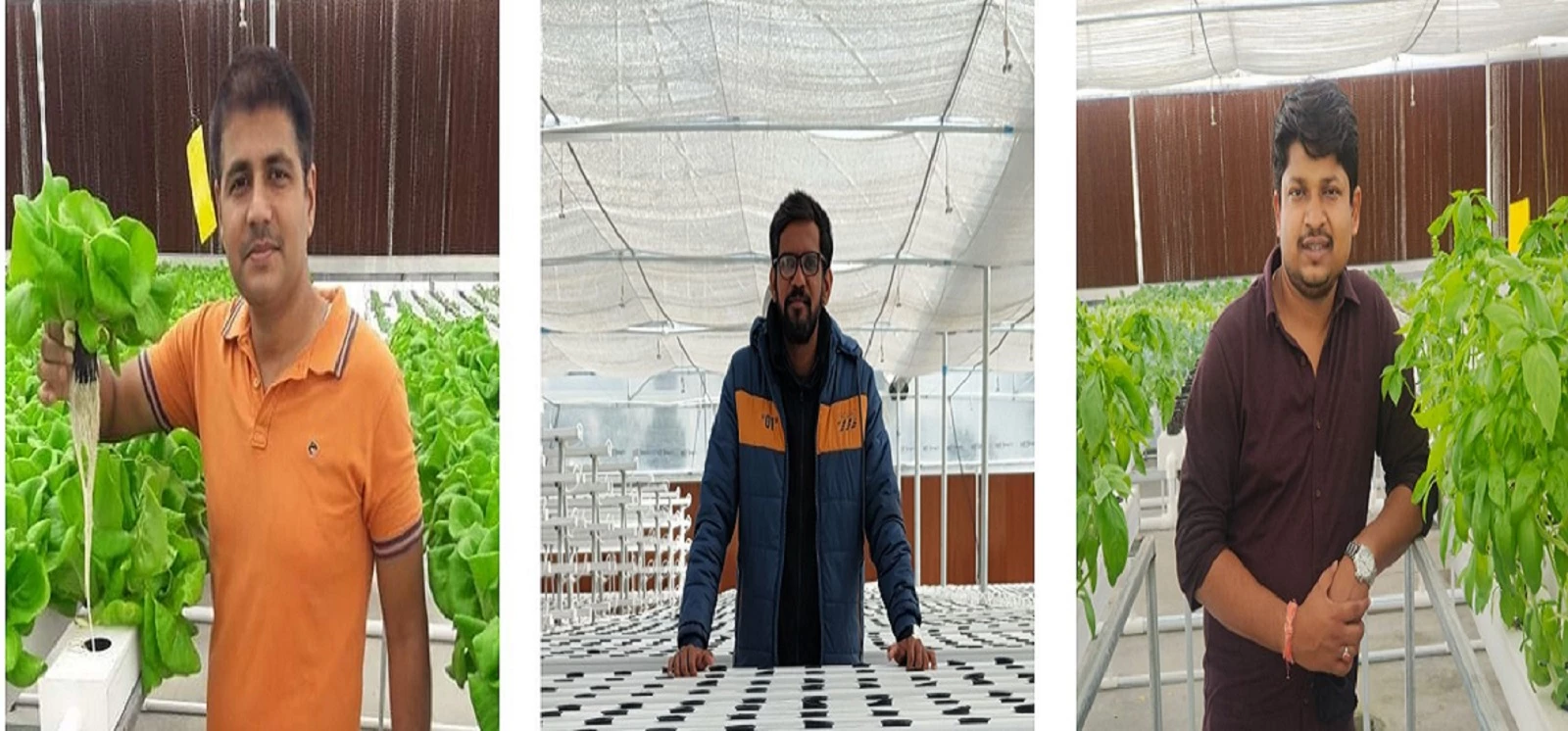 In the last few years, the trend of hydroponic systems i.e. soilless farming has increased especially among the urban farmers as well as gardeners. People are adopting it for commercial and personal purposes alike. Seeing the scope and effectiveness of Hydroponic systems many start-ups have started setting foot into this industry.
Rise Hydroponics, an Ahmedabad based startup provides end to end soilless farming solutions at commercial as well as domestic levels. It was founded by Tusshar Aggarwal, Meet Patel & Vivek Shukla in April 2020 amid Covid Pandemic. At present, the annual turnover of this Rising Hydroponic Giant is Rs 10 crore.
The Founders' Marketing experience helped him a lot!
Tushar says that as the population is increasing, the demand for proper nutritious, pesticide free, healthy food is also on the rise. This is where they realized the scope and demand of Hydroponics in India. The years of experience of handling different projects at various scales along with deep understanding of digital media made Tusshar Aggarwal, Meet Patel & Vivek Shukla the perfect trio to launch the Startup. Within three-four months, their startup was quite solid and even got many big projects.
What is Rise Hydroponic's Marketing Model?
The Rise Hydroponic owns a farm in Ahmedabad and Vadodara. Where they are practicing hydroponic farming on a large scale. Whatever produce is harvested, they supply it in the market. Along with this, they install hydroponic systems and polyhouses at commercial and personal level across the country. Their team is working in many states including Madhya Pradesh, Rajasthan, Gujarat, Bihar. They have worked on more than 30 big projects in a year. Along with this, they have developed close to 100 personal level systems as well.
For those who want to install this system for personal use, they have prepared a kit. It contains all the equipment, fertilizers and seeds. They also provide a video for the customers so that they can install hydroponic system in their house by themselves.
What is Hydroponic Farming?
Hydroponic farming means soilless farming. It does not require land. Planting is done in a pipe or stand instead of the ground. Its entire process and technology is such that the necessary things for the development of the plant can be provided through water medium. Generally, natural fiber prepared from coconut waste is used in place of soil. Sometimes pebbles and stones are also used. After that the necessary minerals are transported to the plant through water. This results in more production in less time.
Hydroponic Farming Training:
There are many places, you can get yourself trained in Hydroponics farming. Many KVKs also offer this training of 2 to 5 days. Tushar, co-founder, Rise Hydroponics, also provides training to people. Till now he has trained more than 25 thousand people at various online & offline platforms. The rest, according to your location, with the help of Google, you can get information about the institute concerned. Nowadays many online courses and videos related to this are available on the internet.
Cost – Profit Analysis of Hydroponics Farming:
Hydroponic farming can be done for personal and commercial purposes. If you want to install a hydroponic system tomeet your personal needs, then the cost will be very less. You can install this system on your roof for 10 to 15 thousand rupees.
On the other hand, if you want to do Hydroponics farming at commercial level, then expenses can range from 10 lakhs to 20 lakhs. Yes, subsidy is also available from the government ranging from 30% to 50% for this. For this you have to plant different varieties of plants. Also a poly house will have to be installed to maintain the temperature. You can also get a poly house installed by taking a loan from the bank.