If you are struggling to stay productive during the middle of the day and would like to increase your energy levels without the help of coffee and energy drinks, then you have come to the right place. While coffee is a natural product with many health benefits, however, drinking it multiple times during the day can lead to acidity and sleep issues.
On the other hand, most energy drinks contain a lot of sugar, caffeine, and empty calories which can contribute to weight gain. In this article, we will mention some of our favorite healthy alternatives to coffee and energy drinks. These natural, nutritious, and healthy beverages will boost your energy and supply your body with beneficial nutrients.
1. Green Tea- Although green tea's caffeine content is significantly lower than coffee's, however, green tea is full of antioxidants and has several plant compounds that support brain function, reduce the chance of developing cardiovascular diseases, and even enable fat loss. Green tea contains an amino acid known as L-theanine which has anti-anxiety effects and increases the production of dopamine.
 The caffeine present in green tea helps boost brain function without causing the jittery effects that are associated with the excessive consumption of caffeine. Drinking green tea regularly also reduces bad breath, prevents type 2 diabetes, and lower LDL or bad cholesterol which helps us lose weight.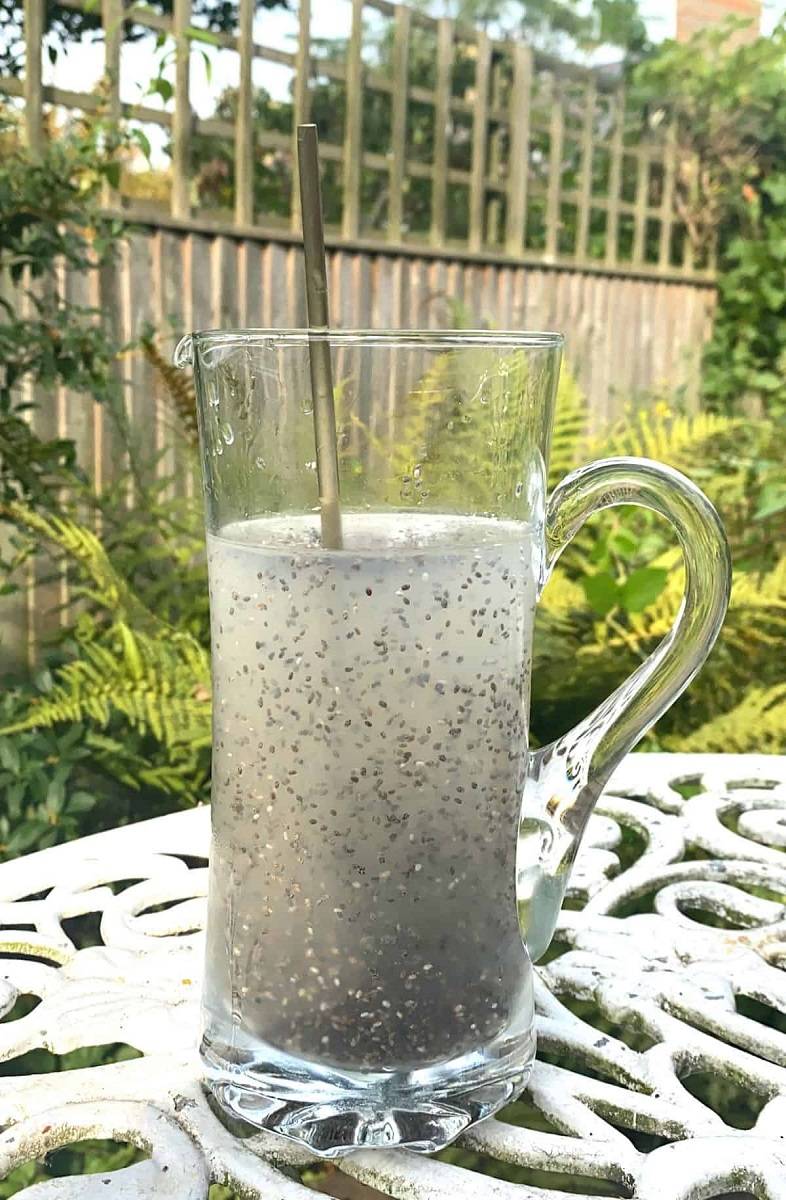 2. Chia seeds in coconut water- Chia seeds in coconut water along with some lemon juice is an incredibly refreshing, nourishing, and nutritious beverage. While coconut water is a rich source of electrolytes such as potassium and magnesium, chia seed are an excellent source of protein, fibre, and antioxidants. This is a perfect post-workout beverage as it hydrates the body, stabilizes blood sugar levels, and even decreases blood pressure. This drink provides the body with nutrients that it lost during a workout. It will also keep your gut happy and make your skin glow.
3. Water- Water is the ultimate energy-boosting drink. Although it might not seem this way but not drinking enough water can affect our productivity immensely. This is because dehydration can make us irritable, and dizzy, and even cause headaches. Coffee, sports drinks, and energy drinks might be liquid in the state but they are not an alternative to water. In fact, they put us at a higher risk of dehydration. It is important to drink water throughout the day for the proper functioning of the body.
4. Orange juice- Orange juice is an excellent source of the antioxidant vitamin C which helps reduce oxidative stress in the body and even prevent fatigue. Studies show that drinking a glass of orange juice at least once a day can have a positive impact on our mood and make us less likely to experience confusion, anger, or depression.
5. Matcha- Matcha refers to the finely ground powder of specially grown and processed green tea. It has a greater amount of caffeine and antioxidants than typically found in green tea. Just like green tea, matcha also helps enhance brain function. Research indicates that drinking matcha regularly helps improve attention, memory, and reaction time. It also improves alertness and induces relaxation along with decreasing stress levels.
6. Spinach and banana smoothie- Bananas are eaten worldwide and are considered the quickest and most fulfilling snack. They are a great source of natural sugars, fibers, and potassium. Spinach, on the other hand, is an excellent source of vital vitamins and minerals such as magnesium, iron, calcium, and vitamin A. When combined together, the resultant smoothie provides sustained energy, slows down the digestion of complex and natural sugars, reduces stress and anxiety, improves our immune system, and improves blood flow.
First published on: 14 Mar 2023, 15:28 IST