We're on WhatsApp! Join our WhatsApp group and get the most important updates you need. Daily.
Join on WhatsApp
Subscribe to our Newsletter. You choose the topics of your interest and we'll send you handpicked news and latest updates based on your choice.
Subscribe Newsletters
Upcoming Events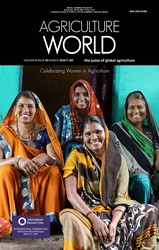 Sign up for our digital magazines. Be the first to see the new cover of Agriculture World and get our most compelling stories delivered straight to your inbox.
Subscribe now